Teeth Whitening at Rivergum Smiles
Creating Brighter Smiles in Mill Park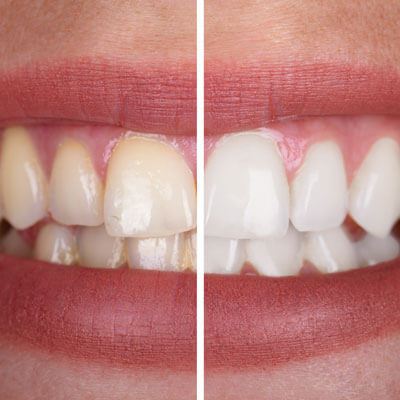 Your tooth enamel is naturally porous. Not only does it have its own unique shade and hue but it can also pick up stains and discoloration over time from the foods we eat and the environment that we live in.
Fortunately, we're able to provide a safe and effective way to whiten teeth and erase the signs of stain buildup. Thanks to our professional whitening treatments, you can enjoy a brighter smile as a stand-alone cosmetic procedure or when paired with other aesthetic services for a more dramatic effect.
Safe Same-Day Whitening
Enjoy dramatically whiter teeth in just one trip to our office. During your appointment, we'll apply the concentrated gel to your teeth and activate it with a special light, oxidising stain particles and leaving behind a smile that's several shades brighter.
Prefer the option of whitening your teeth at home? Our custom kits feature specifically designed trays and professional strength gel to get results that outperform products sold in stores.
How Does Teeth Whitening Work?
Whitening uses a blend of carbamide or hydrogen peroxide gels to naturally dissolve and lift away deep-set stains from your smile. It's so safe that it also brightens the natural colour of your tooth enamel. Our office uses Polawhite products for safe &proven results whether you're getting a same-day treatment or using the gels at home. To maintain your results, we recommend touching up after each cleaning (we'll show you how.)
Part of Your Smile Makeover Plan
Choosing to whiten your smile is a great stand-alone service to enhance the appearance of healthy teeth. But if you're considering other types of aesthetic treatments (such as bonding or veneers) we may recommend whitening your teeth first, so that adjacent areas match one another as best as possible.
Same Day Appointments
Schedule a same-day appointment today to get started!
BOOK NOW

Teeth Whitening Mill Park, South Morang, Mernda VIC | (03) 8418-6389