ClearCorrect™ at Rivergum Smiles
Translucent Braces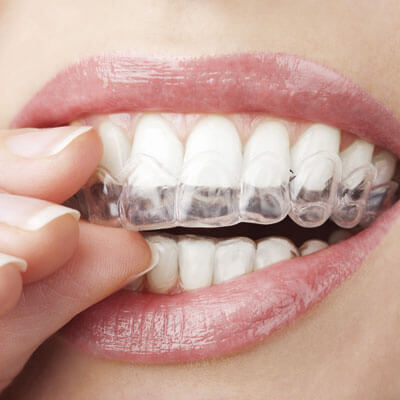 ClearCorrect™ is an affordable, comfortable orthodontic treatment offered at Rivergum Smiles for adults and teens. The custom-fitted aligners snap snuggly around your teeth and are made of clear materials that are difficult to see.
Like
Invisalign®
, ClearCorrect™ uses a system where the aligners are changed out periodically to strategically move the teeth without fixed brackets and wires. This convenient advantage means you'll enjoy fewer appointments during treatment!
Why Consider ClearCorrect™?
What to Expect
ClearCorrect is designed to address issues such as crowding, spacing, overjets, overbites, misalignment and open bites. Thanks to strategically designed aligners (and sometimes small tooth-coloured "buttons" bonded to teeth) we can guide your smile into the correct alignment in lieu of requiring traditional braces.
Plan to wear each set of ClearCorrect trays for two weeks, only removing them when it's time to eat, brush or floss. Change your aligners out with the next set in the series as directed, usually every two weeks. Because we send your trays home with you, you'll only need to stop by our office once every month or two to pick up the next series of aligners.
How Long Does Treatment Take?
The duration of your orthodontic treatment will depend on your unique anatomy, smile goals and whether you're in need of a comprehensive or short-term aesthetic solution. During your initial consultation and exam, we will be able to provide you with an estimate as to how long you will need to be in your braces.
Financing Plans Available
Investing in your smile is a great way to boost your oral health and self-confidence. To learn more about ClearCorrect and affordable financing plans we offer, schedule a same day consultation.

ClearCorrect™ Mill Park, South Morang, Mernda VIC| (03) 8418-6389