Check and Cleans at Rivergum Smiles
Your Mill Park Oral Hygiene Partners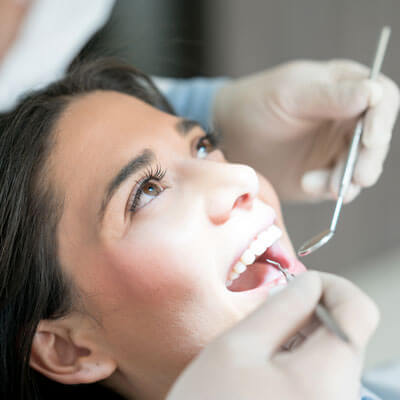 To provide the best interceptive and preventative care to our patients, we recommend a scale and clean every six months. These appointments allow us to carefully screen for symptoms of gum disease, tartar buildup, decay and oral cancer.
Although you may have excellent oral hygiene at home, plaque buildup can accumulate throughout the mouth, leading to calcified deposits along the gumlines. If not removed, these bacterial colonies can contribute to gum disease and tooth loss.
Fortunately, a dedicated preventative routine that includes routine scale and cleans can help to significantly reduce the risk of common oral health concerns.
Symptoms of Gum Disease
Left unmanaged, gingivitis can evolve into more aggressive periodontal (gum) disease. While this condition is the main cause of tooth loss in adults, it's also linked with health conditions like pneumonia, diabetes, infertility, stroke and heart attacks.
Daily flossing and gentle brushing along the gumlines will typically reverse gingivitis symptoms within about two weeks. Combined with a scale and clean every six months, you'll be equipped with the resources needed to keep your smile healthy for life.
If you're experiencing any of the following symptoms, your oral health may require more than a preventative scale and clean
Gums that bleed easily when you brush and floss
Receding gumlines ("long teeth")
Bad breath
Tooth mobility
Caring for Your Smile at Home
Choose a soft or extra-soft bristled toothbrush that's gentler on enamel and your delicate gum tissue. Spend at least two minutes brushing, twice per day. When flossing, make a note to slide the strand of floss just under the gums and against the root of each tooth, disrupting any plaque biofilm that may have accumulated under the edge of the gumlines.
Same Day Appointments Available
Has it been six months or more since your last scale and clean? Contact us today to schedule your next checkup!

Check and Cleans Mill Park, South Morang, Mernda VIC | (03) 8418-6389