Children's Dentistry at Rivergum Smiles
Family-Friendly Mill Park Dental Care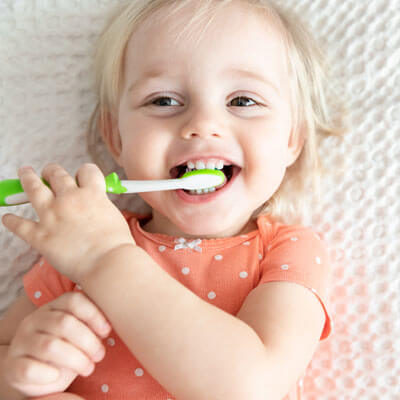 As your family's dentist, we enjoy seeing patients from a variety of backgrounds, including young children. We believe that providing care to your entire household allows us to better meet the unique health concerns and priorities of each individual family member.
Our goal at
Rivergum Smiles
is to provide paediatric patients with a positive oral health experience through preventative strategies, limiting the risk of common dental concerns as they age.
Plus, our flexible scheduling and same day appointments make it easier for you and your children to see a dentist when it fits your personal routine.
Caring for Young Smiles
To help your child enjoy healthy teeth well into adulthood, we recommend preventative services including
Check and Cleans: Just like adults, children should have a checkup and dental clean every six months. During these appointments we'll evaluate your child's oral development and discuss proper habits to keep their smile bright and healthy.
Protective Sealants: Dental sealants offer a layer of protection in deep grooves and fissures of the back teeth, making them easier to clean and reducing the chance of developing cavities.
Mouthguards: Is your child involved in athletic activities? A custom mouthguard protects against common dental emergencies such as knocked out or broken teeth as well as concussions.
Fluoride: Limit the risk of cavities and reverse early phases of enamel demineralization. Fluoride is especially helpful for our orthodontic patients.
Orthodontic Evaluations: All children should have a bite evaluation by age seven. Interceptive treatments can eliminate the need for more extensive orthodontic therapy later on in life.
Dental Fillings: Catching tooth decay at its earliest stages of development means less invasive treatment for your child. Small white fillings match the colour of your son or daughter's natural tooth.
Same Day Appointments Available
For comprehensive children's dentistry or to schedule a visit for everyone in your family, contact us today. New patients are always welcome and same day appointments are available.
BOOK NOW »

Children's Dentistry Mill Park, South Morang, Mernda VIC | (03) 8418-6389