Dentures at Rivergum Smiles
Tooth Replacement in Mill Park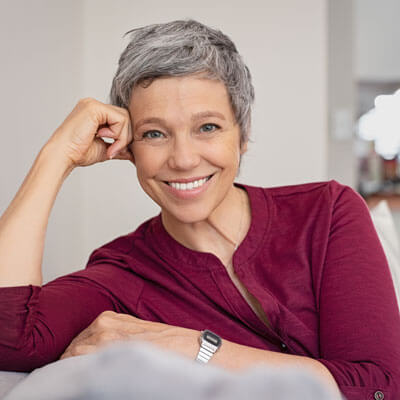 Dentures are custom-made prosthetics used to replace your teeth. They can be designed as removable (traditional) plates or as overdentures affixed directly on top of dental implants.
For
Rivergum Smiles
patients who still have several remaining teeth, a partial denture replaces the ones that are missing without requiring any extra tooth extractions. The partial simply clasps into place around your healthy smile.
What are Dentures Made Of?
Depending on your particular budget and aesthetic needs, we can have dentures made from economical acrylic materials or combined with porcelain products for enhanced cosmetic purposes. Our ultimate goal is to provide you with a prosthesis that will help you speak at eat comfortably without the embarrassment of missing teeth.
Caring for Your New Dentures
Removable dentures should be taken out each night and soaked to loosen any debris that has accumulated throughout the day. The next morning, clean your prosthesis with a soft denture brush and wipe your mouth with a damp washcloth before putting your plate back in. Sleeping in your dentures can predispose you to oral infections, sores or accelerated bone loss. It's important for your mouth to be able to have at least a few hours to rest overnight.
Implant-supported dentures may be permanently affixed or removable, depending on which design you choose. For permanent ones, brush as you would normally and then use a floss threader or water flosser to clean between your prosthesis and gums.
Schedule a Same Day Appointment
Are you thinking of getting a denture? Do you have a full or partial design that needs to be adjusted or re-fitted? Request an appointment today to find out how we can help. New patients are always welcome and same-day appointments are usually available. Book now to learn more.

Dentures Mill Park, South Morang, Mernda VIC | (03) 8418-6389